Founded by Dr. Des Fernandes, Environ uses Vitamin A as the cornerstone ingredient in its skin care philosophy. Everything that defines healthy, beautiful looking skin is a direct result of Vitamin A. This key ingredient combined with a multitude of other essential Vitamins, Antioxidants and Peptides is why Environ has been one of the top medical grade skin care lines in the world for decades.

This ingredient combined with Vitamins C and E and powerful peptides and antioxidants is why these incredible products are endorsed by the Swiss Vitamin Institute, verifying the strength and effectiveness of their award-winning Vitamin A moisturizers and serums. Ask us today about how you can get started on your way to have your skin be Reborn Beautiful.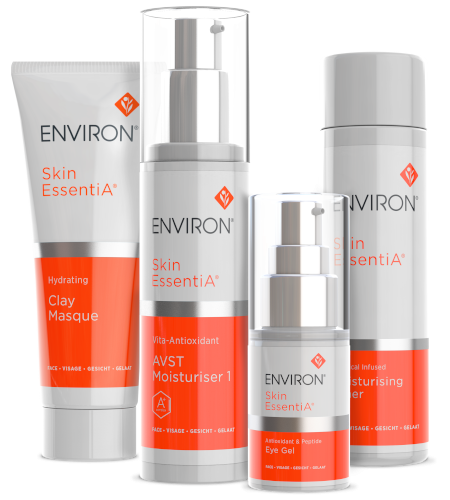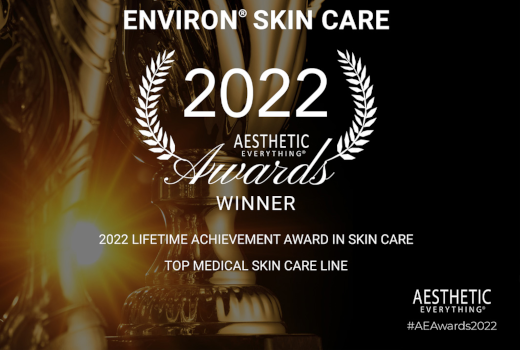 Voted Top Medical Skincare
For over 31 years, South African born Professional Skincare Brand Environ has received over a hundred highly esteemed accolades for outstanding products worldwide, and the extraordinary winning streak continues into 2022.

Environ has been voted "Top Medical Skin Care" in The Aesthetic Everything® Aesthetics and Cosmetics Medicine Awards making this the fifth year of achievement.
Product Videos
Environ Professional intelligent treatments video
Posted: March 25, 2022
Additional Videos
Environ Professional intelligent treatments video
Posted: March 25, 2022
3 NEW DF TECHNOLOGY VIDEO
Posted: March 25, 2022
Clinical Facials
All clinical facials are performed by Estheticians who have been trained and certified to deliver medical skin care treatments.
DF III Vitamin Infusion Facial
$179
Performance intelligence at its best. This revolutionary skincare treatment uses dual probe technology to achieve 40x better absorption of highly effective, powerhouse vitamin formulations. Active molecules are ionized and diffused into the skin targeting skin care concerns such as ageing, pigmentation, dehydration, sensitivity and blemish-prone skin.

The DF technology thickens the epidermis thus leaving the skin better protected, healthier and radiant while simultaneously increasing collagen and elastin production. It truly is a facial unlike any other!



PURCHASE 3 for $169 each
PURCHASE 6 for $159 each
Environ's Cool Peel Technology is a non- invasive skin peeling system that pioneered the use of acidic creams and thick gels instead of the traditional acid solutions. These peels regenerate the skin without compromising its integrity and natural functions. This cool peel technology is safer and more precise than harsher chemical peels and is able to treat a variety of skin concerns. Always combined with Environ's DF III Technology, we are able to ensure 40x better absorption of the targeted serums we select leaving the skin healthier, feeling beautiful and radiant.



PURCHASE 3 for $189 each
PURCHASE 6 for $179 each
Microneedling (Collagen Induction Therapy)
$359
At Blush microneedling is performed with the Innopen, the world's most safe and effective microneedling device. This treatment, also known as Collagen Induction Therapy, is the process in which micro injuries are created in the dermis thus leading to an immediate natural regenerative response in the body instructing growth factors to repair the skin through the production of collagen and elastin. The microchannels created in the skin are then used to drive Environ's powerful formulations deep into the dermis to help to reduce the appearance of fine lines, laxity and wrinkles, improve acne scarring, smooth pores and brighten the skin. At Blush, an Environ cool peel is always included with this procedure to further ensure your skin will look fresher, healthier and more youthful.

A topical anesthetic is always applied for your comfort and requires little to no downtime. Treatment also includes a 5ml Envrion Avance Elixir Tri Peptide Complex to use at home.
*Consultation required.


PURCHASE 3 for $329 each
PURCHASE 6 for $319 each
*Add on a DF vitamin infusion facial to your Microneedling treatment for only $139
WHAT IS 3D AREOLA RESTORATION?
3D areola restoration is a permanent tattoo that resembles a real 3D nipple and areola. We carefully use colours that work with the illusion of shadow and light for all ethnicities. 3D restorative tattoos can create a very realistic look, helping cancer survivors regain a piece of their femininity back. This art form has the true power to heal and gain back confidence!

For a unilateral nipple and areola complex, the tattoo is created to match the existing areola as much as possible, keeping the same size and colour. For bilateral areolas, we can recreate a look from memory or photograph, or perhaps you may wish to try something a little different. We will decide on colour, shape and size together and no decision will be taken without your approval. We will add Montgomery glands, those tiny little white bumps on the areola, to create more realism.

Some women who have undergone a mastectomy and breast reconstruction also get a nipple reconstruction following their initial surgery. Some women opt out of getting their nipple reconstructed and decide on only getting a tattoo instead. It is also possible to have a restorative tattoo on a reconstructed nipple, creating beautiful natural-looking results.

You may receive a tattoo between 4 to 6 months after nipple reconstruction surgery, sometimes longer. A doctors note is always required, in order to complete your tattoo. Your scars must not be red to have optimal results and to prevent any complications or infection.

NECROSIs
After surgery, a rare but possible complication is necrosis. When the tissue doesn't get enough blood flow, some of it can die. This tissue breakdown is called "necrosis". Tissue necrosis usually has a marbled look to it and is very hard to the touch. It is very difficult and risky to implant any colour into necrotic or heavily scarred tissue, as any intervention has the possibility of worsening the skin's condition.

TOUCH-UPS
Areola and nipple restoration may require a touch-up appointment 6-12 weeks after the initial session. The ink implanted into the dermis is permanent and made to last as well as stay true to colour. Depending on metabolism, life habits (smoking, drinking, sunbathing), you may want to have a touch-up many years down the line to keep colours looking fresh and bright, but your tattoo is similar to a regular body tattoo and is made to last. A follow up appointment is required about 6 weeks after the initial treatment to determine if a touch up is necessary.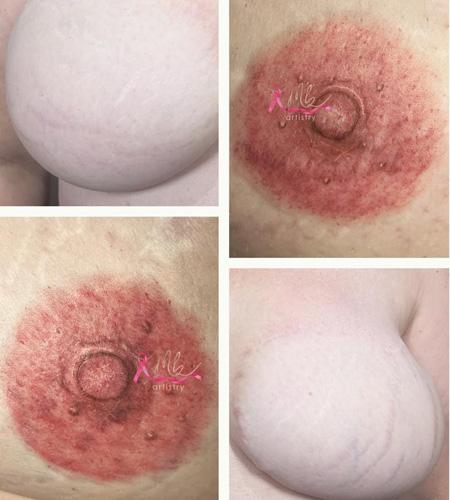 Unilateral - Initial
$375
Unilateral - Touch Up
Free
Bilateral - Touch Up
Free
*A consultation is necessary prior to getting your areola restorative tattoo
/var/www/vhosts/blushspalasalle.com/httpsdocs/
https://blushspalasalle.com/